Complete Portfolio of Prenatal Screening Assays
The gold standard in prenatal screening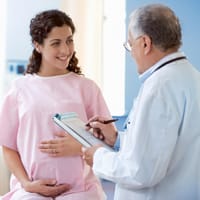 B·R·A·H·M·S is the provider of a complete prenatal screening biomarker portfolio, offering all 8 biomarker assays to measure AFP, Free β hCG, hCG+β, Inhibin A, PAPP-A, PlGF, sFlt-1 and uE3 on a fully automated immunoanalyser in a very precise, fast and easy way.
B·R·A·H·M·S prenatal screening solutions cover first trimester trisomy and pre-eclampsia screening, second trimester trisomy and neural tube defect screening as well as an improved diagnosis and prognosis of pre-eclampsia after 20 weeks of gestation.
Because quality matters
Further links
References B·R·A·H·M·S biomarkers for prenatal screening
Ref-1: Monthly UK NEQAS reports, February 2003 - November 2021.